I got the message from Mina early March last year. To have a 10th anniversary edition cover for Interim Goddess of Love.
When she mentioned the aesthetic of carved wood, to match the wood carving traditions of Laguna, I couldn't get it out of my head. My brain was already on pyrography, but I keep going back to actual carving.
There was even a point where if I had actual materials I'd do the carving myself.
I got stalled though, as I encountered a number of setbacks last year.
Though during this time, I couldn't stop thinking about it. Between doing three other covers, I was researching stuff. I wanted to not only depict the sun, moon and sea. I wanted the main character on there as well, to show her duality.  One real item—the kapa-kapa (Medinilla magnifica) native to Makiling; and one for the idea of Maria Makiling—the kalachuchi (Plumeria rubia)—the one she's oftenly portrayed with.
Fun facts: the kalachuchi is often associated with graveyards and the idea of 'beyond death.' While the kapa-kapa, was a local symbol of fertility. So I am not so far off than I initially thought.
And when Mina mentioned she also wanted a hardcover version with a dust jacket, that's when the whole thing started coming together in my head.
I started chipping away by digitally carving out the base elements. I was actually having a lot of fun, but I couldn't share my progress with anyone else as I didn't want to preempt my self. I had the idea, but I still didn't know how it would turn out.
I keep carving out things. And even adding and subtracting; it was more molding clay than carving wood. And when I finally added the flowers, I decided I needed to stop or I'll never get done. And when I did, I started to ask why I didn't start doing the flowers soon enough, as I loved painting them, especially the kapa-kapa.
I always knew I wanted to use the Maragsâ font by John David Maza. It evoked such a local feeling, and fit right into the aesthetic. I also knew I wanted to overlap all the elements to give a sense of moving around the space.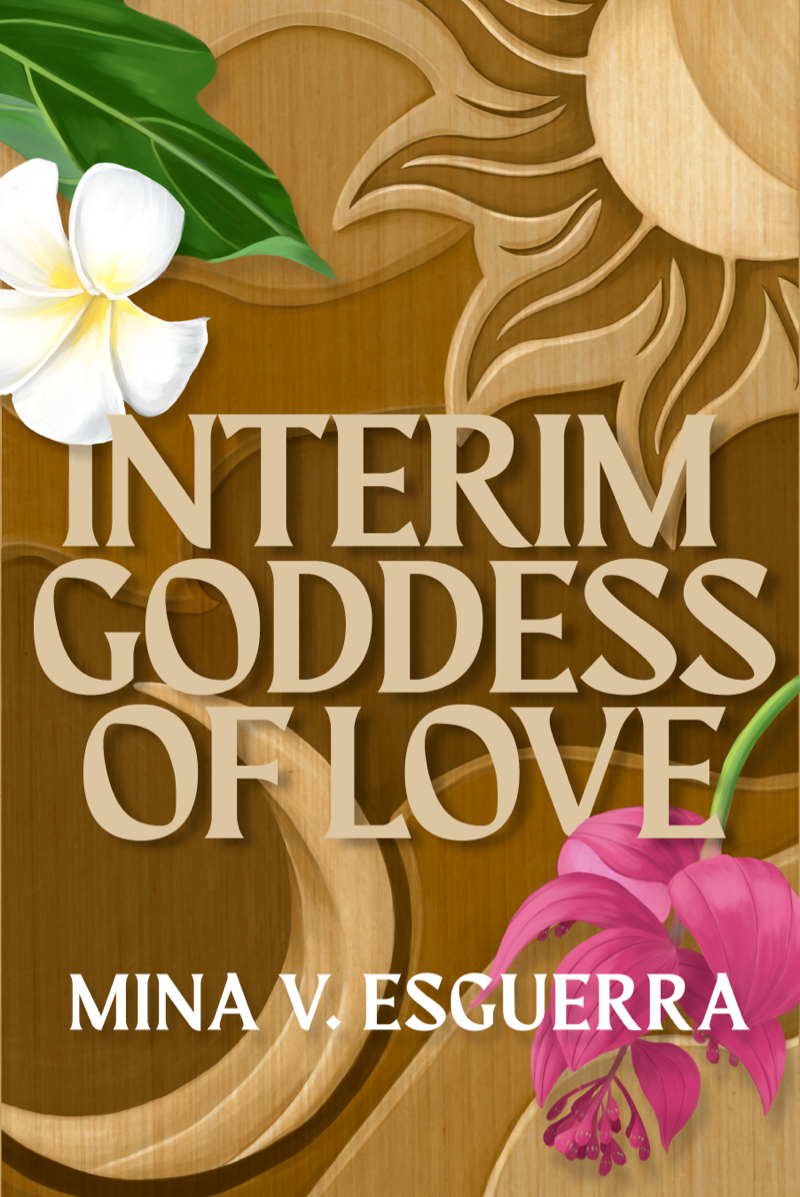 And so now we're here. The final cover for Mina V. Esguerra's Interim Goddess of Love, 10th anniversary edition. You can now preorder the print in paperback and hardcover via her order form.
And if you can't decide which version to pick, here's a teaser of the dust jacket for the hardcover one. I'm particularly fond of it.
Thank you again for letting me do this, Mina. For your trust and for your patience. I really had a lot of fun.